Throughout the years, many Democrats have complained of the so-called power and influence of "big oil," the companies like Exxon who apparently have too much power and have gouged consumers by charging too much, especially after hurricanes and powerful weather events. I say this in sarcasm. But still, some politicians have called for taxing profits of these companies and now Obama has hinted that he would use the Strategic Petroleum Reserves to combat increased oil prices.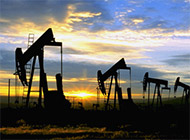 With all this in mind, the QandO blog does an excellent job of debunking the myth held by liberals and Democrats that "big oil" wields too much power. Some of the points made is that almost 80% of the oil market is controlled by foreign national oil companies. These are entities like the Saudi Arabian Co., National Iranian Oil Co., and the Iraq National Oil Co.
Another piece of evidence are the earnings of the oil industry. The oil and natural gas industry falls far behind many other industries in terms of earnings, so why is "big oil" constantly picked on by liberal politicians? Perhaps they're just easy targets and scapegoats, but nevertheless, the so-called big oil companies wield a VERY insignificant amount of power and influence compared to the oil cartel OPEC and the foreign national oil companies.