Monthly Archive for January, 2010
These two specialty insurers ain't no Berkshires, Markels, or Alleghanys, but they seem to have done alright with their underwriting in the past, but Mr. Market has punished their stock prices in the past several months.
The first is The Navigators Group (NAVG). It's P/B is 0.9 at the moment and the forward earnings yield is about 11%. And technically speaking, I think its a great entry point being at the bottom of its bands and near a range of support. (click for larger image)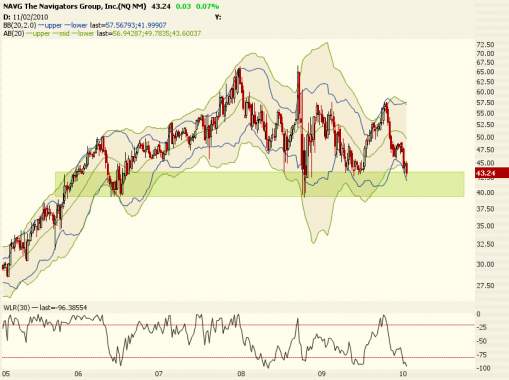 The second is Argo Group International (AGII). It's P/B is 0.52 and the forward earnings yield is about 15.8%. This stock is also at a great entry point technically speaking. (click for larger image)
This post contains my evaluation of Markel (MKL). A lot of the material in the evaluation was taken from SEC filings, various news reports spanning the past 15 years, some interviews with people knowledgeable about the company, and my own analyses. I think Markel is an excellent company, with a future that is still bright after decades of great performance, and is trading at a fairly attractive evaluation. Continue reading 'Markel (MKL) Evaluation'
Many people out there need the services of a financial advisor. Choosing the right advisor is a process that should not be taken lightly. Choosing an advisor because he or she is your best friend or because you already have a banking relationship with them are most likely not the best reasons. The performance and fee structure of the advisor, the accessibility and responsiveness of the advisor, and the honesty and integrity of the advisor are probably the most important things to consider for most people. However, honest and integrity are the most difficult qualities to assess in a person.
In order to gauge the integrity and quality of an advisor, here are ten questions I feel a good advisor should be able to answer with little to no hesitation. I feel some answers should come easily like the answers to questions 1-4, but other answers naturally require a little bit more reflection like 5-10. Obviously, if the potential advisor has trouble answering these questions or is incomplete in answering, I would take this as a warning signal. I hope this list is helpful.
Who do you look up to in the investment business and why?
Who is your greatest mentor and what are their 3 most powerful competencies?
What investment mistakes have you made? Listen carefully to determine if they recall errors of commission and/or omission.
What is the biggest mistake you have ever made in business and what is the most valuable lesson you have learned from this mistake?
What makes you feel guilty?
Have you ever suffered or experienced a loss for doing what you thought was the right thing?
Under what extenuating circumstances would you lie?
What about you will I know after three months that would keep me from hiring you today if I knew it?
If you are willing to provide references of former clients, what will they say is your greatest strength and greatest weakness?
If you inherited $300,000, what would you do with it?
If anyone has suggestions for additional questions, I would be happy to see them posted in the comments.
There are some out there in the online value investing community who have been enthusiastic about Sardar Biglari, Western Sizzlin', and finally Steak 'N Shake (SNS). I'm not going to go into details about these figures as it would take too much time, so this post is for those who are already in the know.
I have followed the news on all these figures and I have yet to buy into the hype that Biglari is and has been trying to create. After some serious thinking about SNS and Biglari, here are some reasons that should at the least provide pause to any serious investor.
Reasons For Caution
Though having accomplished some impressive things in the past at a young age, Biglari is still unknown and young. There is no value investor that I know and respect that has invested with Biglari or in any of the stocks Biglari has targeted. But the same could have been said about Buffett way back. I ask myself if I would have invested in Buffett's partnership when he first started going and I really can't come up with an answer. My criteria probably would have been whether I intimately knew Buffett or I was friends with someone who knew Buffett. And so it should be with Biglari I think. Unless you know him personally, and you know he is not just saying all the right things to attract attention and money, then it's not a good idea to invest with him or in any of his target companies.
Secondly, the restaurant business is a horrible business from which to launch a successful, long-term company, though the same could have been said about the textile industry. Looking at Biglari's most recent letter, you see that SNS was only profitable because capex fell off a cliff. This might be alight for just a year, but Biglari maintains this level of capex, I can only predict dire results for the business. As a sidenote, I know someone who recently visited a Steak 'N Shake restaurant for lunch and asked about new management. The response was interesting, as one of the bad things about new management was that company-owned restaurants were required to be open on Thanksgiving Day. There was only light traffic that day and I guarantee that 99% of SNS restaurants lost money that day. What's up with that Biglari?
Thirdly, Biglari seems to be extremely narcissistic. Read his letters. Most of the sentences are in the first person, citing his actions and accomplishments. I'm fairly certain he doesn't mention any SNS employee by name. True, Biglari has accomplished a lot of things and he is right to be proud, but he comes off as very full of himself.
Fourthly, Biglari wrote on page three of the 2009 letter that "there is no better barometer of value creation over the very long haul than stock price." If you call yourself a value investor and this statement does not completely shock you, then I must question your credentials and beliefs. Stock price is absolutely meaningless when it comes to measuring the value of a company. There is intrinsic value and then there is the price that others would pay. If the owner runs the business successfully, invests in projects that yield returns, then price should follow intrinsic value, but price is certainly not a true measure of a company's value.
Fifth, its interesting that there was a reverse-split of the stock to attract long-term investors, but I really question whether this created any value. I believe any type of split is a useless transaction that takes value away from the company. You can rationalize a stock split all you want, at the end of the day shareholders get nothing in return. If Biglari wants to attract long-term shareholders, then he should focus on running the business and start proving to everyone that he is not just blowing smoke or dressing up his company to look like another Berkshire with the insidious goal of attracting easy money and attention.
Finally, SNS's recent hostile bid for FMMH was just insulting to the owners of FMMH. The premium was minuscule and was rightfully rejected. This action to me is more evidence that Biglari believes he is hot shit.
Summary
I do not disagree that Biglari has some impressive accomplishments, but for all of the reasons above, I would advise a wait-and-see approach to Biglari and SNS. For now, I think it's more likely that Biglari is just doing and saying all the right things in order to appear like the next Buffett. And if Biglari is really a Buffett type of guy, then it won't hurt to wait several years to see how things play out with Biglari and SNS.
This is a post of the "research" I performed on Capitalsource (CSE). The inspiration came from a write-up submitted by another author to the Value Investors Club on November 1, 2009, so I think a better description of the work I did was due diligence and fact-checking to make sure the author was more or less correct.
I can't vouch that everything is correct, but I feel enough is correct to provide a good margin of safety. I do not own any shares of CSE, but it is certainly an interesting stock. Stocks like Capitalsource that appear dangerous or overly complex often provide great opportunities as people are just lazy and do not want to take the time to understand them.
Claim 1 – CapitalSource Bank is worth $2.50/share at 1x BV
As of 9/30/09, the bank had assets of $5,529,035 and total liabilities of $4,674,844 which gives a book value of $854,191 or $2.64 per share at 1x BV. Goodwill is $173,366, which gives a TBV of $680,825 or $2.11 per share at 1x TBV.
The bank is extremely well capitalized compared to many other banks. For the most recent quarter, CapitalSource has core capital (leverage) ratio of 12.52% and a Tier 1 ratio of 15.47%.
And though the bank has negative returns on assets and equity, these figures have improved over the last quarter. Concurrently, the cost of funding earning assets has decreased (from 2.25% to 1.79%) and the net interest margin has increased (from 3.12% to 4.2%) over the most recent quarters.
The author also claims, "New loans are being written today at LIBOR + 500 (or more) with LIBOR floors, giving the bank substantial earnings power in the future." I am not certain as to the accuracy of new loans being made at LIBOR plus 500, but it is a fact that the majority of the current commercial loan portfolio bears interest at a spread to the LIBOR rate or a prime-based rate. Possible evidence of this may be found on page 63 of the most recent 10-Q. On page 75 of the most recent 10-Q the company talks about the state of its loans:
The majority of the CapitalSource Bank loan portfolio bears interest at adjustable rates pegged to an interest rate index plus a specified margin. Approximately 68% of the portfolio is subject to an interest rate floor. Due to low market interest rates as of September 30, 2009, substantially all loans with interest rate floors were in the money and bearing interest at such floors. The weighted average spread between the floor rate and the fully indexed rate on the loans with floors in the money was 2.60% as of September 30, 2009. To the extent the underlying indices subsequently increase, CapitalSource Bank's interest yield on this portfolio will largely remain constant until such time as the fully indexed rate of interest on a loan exceeds the applicable floor rate.
Furthermore, from page 91 of the most recent 10-Q:
Approximately 54% of the aggregate outstanding principal amount of our commercial loans had interest rate floors as of September 30, 2009. Of the loans with interest rate floors, approximately 97% had contractual rates below the interest rate floor and the floor was providing a benefit to us.
Claim 2 – Healthcare net leases are worth ~ $2.00/share at a discount to peer valuation
According to the 2008 10-K on page 3, the company had "$1.0 billion in direct real estate investments comprising 186 healthcare facilities leased to 40 tenants through longterm, triple-net operating leases."
On 12/22/2009, CapitalSource announced the sale of 40 long-term care facilities to Omega Health Care Investors (OHI):
CapitalSource received net proceeds from Omega of $234.8 million, consisting of $184.2 million in cash; and 2,714,959 shares of Omega common stock (valued at $50.6 million under the Purchase Agreement).  Additionally, Omega assumed $59.4 million of debt associated with the 40 properties purchased.  Included in the purchase price was $25 million for an option which can be exercised by Omega to acquire 63 additional long-term care facilities at any time through December 31, 2011 (step three of the Purchase Agreement).  CapitalSource expects step two of the transaction for an additional 40 long-term care facilities to close on or about April 1, 2010.
This transaction comes out to $175.4 million for 40 facilities, or $4.385 per facility. This transaction values the remaining 126 facilities at a total of roughly $552.51. Adding $552.51 to the facilities already acquired for $175.4 and the $25 received for the option, this is a total of $752.91 million, or $2.33 per share. Claim 2 definitely checks out.
Claim 3 – Legacy loans with non-recourse obligations ~$2.00/share of value @ high end of management cumulative loss scenario
The author writes:
The non-recourse obligations include the six securitizations, the combined credit facility, the CSVII credit facility, and the CS Europe credit facility. The securitizations have a combined $1 billion of CSE residual interest and the credit facilities have a combined $370m residual interest. CSE provides the mix of collateral type for each facility and securitization and also provides a consolidated cumulative loss estimate for its entire loan portfolio. I apply the high end of the loss range (30% cumulative loss on CRE, 15% on cash flow loans, 3% on asset based loans) to each securitization/credit facility to get ~$700m of residual value.
Based upon the most recent data, I found that CSE has about $1.02 billion residual interest with the securitizations and $350m with its credit facilities. After applying the high end of the loss ranges to the collateral types in each securitization and credit facility, I found that the total value would be about $1.125 billion, or about $3.48 per share.
Claim 4 – Legacy loans with recourse obligations ~$1.50/share of value@ high end of management cumulative loss scenario
The author writes:
This is the syndicated credit facility which was reduced in July 2009 to a $600m commitment. The facility has $1,276m of collateral at current marks (originally value of $1,650m) and $531m of outstanding principal after the CSE capital raise in July 2009.
This info was correct as it pertained to the June 30 data. Also,
At the high end loss scenario provided by management, the facility would sustain $260m of losses, leaving $480m of value left for CSE.
As of the June 30 data, the facility would sustain about $260m in losses, but I calculate CSE would have $424m in value left. Updating these calculations for the more recent Sept 30 data, I find that CSE would have about $379.14m in value left after a high end loss scenario, or $1.17 per share in value.
Though management has not provided full credit quality details of the collateral pool, management has indicated that the embedded CRE in the pool is much higher quality than the overall book. As this facility is 2.4x overcollateralized, CSE would need to sustain 60% cumulative losses in the asset pool to default on the structure.
I have not been able to figure out how the author arrived at the claim that this facility is 2.4x overcollateralized.
Claim 5 – Other assets ~$0.35/share of value
The author writes: "The company has $93m of equity investments and $95m of REO. At a 40% discount, these would be worth $110m."
As of September 30, 2009 CSE had $67.1 million of REO ("real estate owned") (pg. 18 of 9/30/09 10-Q). I've been unable to find how the author arrived at $93m of equity investments, so I will not include that in the calculation.  For just the $67.1m in REO, this is worth about $0.20 per share in value.
Claim 6 – Other liabilities ~$4/share of liability
The author writes:
The company has $580m of convertible debt ($330m puttable in July 2011 and $250m puttable in July 2012), $300m of senior secured notes (July 2014), and $439m of trust preferred debt (mostly matures after 2035).
This all checks out in the 6/30/09 10-Q. Updating this to the most recent data, CSE has $559 of convertible debt, $283 of senior secured notes, and $440 of trust preferred securities. This total works out to about $3.96 per share of liability, which is in line with $4 estimate.
Adding It All Up
The following is a sum of the parts valuation for CapitalSource:
| Total | $5.68 per share |
| --- | --- |
| CapitalSource Bank | $2.50 per share |
| Healthcare net leases | $2.33 per share |
| Legacy loans w/ non-recourse | $3.48 per share |
| Legacy loans w/ recourse | $1.17 per share |
| Other assets | $0.20 per share |
| Other liabilities | $4.00 per share |
CapitalSource is worth about $5.68 per share on a conservative, sum of the parts basis.
Rich Karlgaard from Forbes.com comes up with a list of twenty trends for the 2010s. Some are quite interesting.
1. Vegan Republicans
All-plant diets, proselytized so far mostly by PETA punks, Prius drivers, old hippies and Jack Lalanne, go mainstream. The Engine 2 diet portends the future.

2. Backlash Against the Unfit
In looks-obsessed America, it's never been easy to be overweight. Now it's going to get harder. The unintended consequence of ObamaCare will be a backlash against couch potatoes who drive up health care costs for the rest of us.

3. Male Osteorporosis Will Explode
Call it revenge upon the nerds, the unhappy result of sitting in front of a computer all day long, fizzy drinks at the ready.

4. Almost All Cancer Becomes Manageable
The good news about health in the 2010s is that almost all cancers will become manageable events, assuming reasonably early detection.

5. Cars With "All-Glass" Dashboards
Not only will car dashboards look like those of modern jets, each driver will be able to customize the look of the dashboard. The family Ford crossover will take on custom cockpit appearances for the teenager, for Mom and for Dad.
This week I've noticed a bunch of the insurance stocks that I follow have dropped a good bit. Here is the list:
ACE
AGII
ENH
EMCI
ESGR
RE
IPCC
MXGL
MIG
NATL
PRE
PTP
RLI
NAVG
TWGP
UFCS
VR
I haven't delved too deeply into the reason for the drop in stock prices, but I'm guessing its mostly related to recent talk about interest rate hikes. Hiking up the interest rates I believe has a negative effect upon the prices of most bonds, which are a huge part of insurance company investment portfolios.
With some research I think one could find some insurance companies that might have sold off too much as result of interest rate fears. Alternatively, one could also devote some time to research insurance companies that devote an above average percentage of their investment portfolio to equities as I think equities would tend to outperform bonds in an environment where interest rates slowly creep up (as they eventually will).
Cano Petroleum (CFW) is currently trading below what I think is a conservative estimation of net asset value. Looking at the balance sheet as of 9/30/09, CFW has total current assets of $9.01 and $294.68 worth of PP&E. If we accept current assets at face value and discount PP&E by 50% (which I think is pretty absurd given that demand for oil and gas is not going to decline by a whole bunch), we get a value of about $156.35 for assets. With total liabilities of $96.85 the net asset value is $ and 46.48 million shares outstanding, we get a valuation of $1.28 per share. With CFW trading at $1.02 per share, this is a discount of 20.3%.
The price to book ratio is an extremely low 0.27, but keep in mind this is a company with a horrible earnings record. Negative earnings, margins, income, etc., have been the norm for this company for quite a while.
An additional consideration is the proposed merger between CFW and Resaca Exploration. If the merger goes through, Cano shareholders will each receive 2.1 shares of Resaca (owning 50% of the new company in the end) and the combined company will have a PV10 of $652.9 million (81% being oil). As far as I can tell, Resaca has $31.8 million outstanding debt and CFW has total debt of $55.86 for a combined $87.66. If the transaction goes through there will be 195.216 million shares outstanding (46.48 CFW shares multiplied by 2.1, then multiplied by 2 again as the CFW shareholders will only own 50% of the new company). Subtracting total debt from the combined PV10 and dividing by 195.216, we get $2.90 per share. Needless to say, this is a large discount to CFW's current share price.
I am not an expert on energy companies and certainly in this situation it is mandatory to a LOT more work to fully understand what's going on with both these companies. When a company seems to be trading at a large discount to intrinsic value, there usually is a very good reason for that. Understanding the reason is the only way one can eliminate or mitigate risk before making a decision.
Update: I have reworked some of the math regarding the number of shares for the new company. I'm only a bit more certain that the math is correct.
This image is from a New York Times article about the former real estate bubble in Cape Coral, Florida. I think it speaks for itself.